PokerStars withdrawal India Method and Information
Posted on:
January 9, 2021
/
Playing poker is a passion for many in India. It is a real good way to earn some money without having to work hard for it. But many of the poker sites take a lot of time when it comes to withdrawal. This can be really annoying to bettors who were hoping to use their winning to play poker again. This is one of the many reasons why you should always check the withdrawal policy of any poker site before investing your money in card games on that site.
However, if you haven't managed to find any site with smooth withdrawal policies, then PokerStars is a site to bank upon. PokerStars' withdrawal policy is very simple. PokerStars will let you withdraw your winning within 24 hours. To know more about the withdrawal policy of PokerStars, keep reading this article.
Withdrawal Request
The first step of withdrawing money on PokerStars is to make a withdrawal request. To make your withdrawal request will have to log into your account first, then you will have to visit the cashier. Now you'll see a button on which 'withdrawal' is written. Just click on the button. It will open a small window where you will have to type the amount you want to withdraw. This amount cannot be more than the amount of your winning. Type the amount and hit submit. Read the entire form very carefully before you finally submit the withdrawal request.
After you have submitted a withdrawal request PokerStars will send you a confirmation email confirming the amount that will be withdrawn by you. In case of any disputes, you will have to show this email to the authority for confirmation. In case the bank account number you have given isn't valid any longer, then you can submit a cancellation request to deter the withdrawal request.
Withdrawal Modes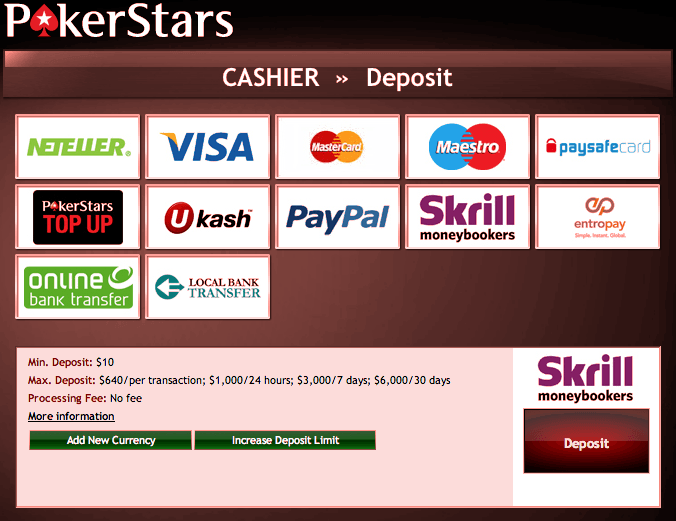 There are many deposit methods for PokerStars like Paytm, credit card, debit card, visa, direct bank transfer, MasterCard, net banking, and several mobile wallets. However, the withdrawal method for PokerStars is limited.
You can withdraw money through the following methods:
Neteller
Skrill
MuchBetter
Bank transfer
The fact that there are only a few methods for withdrawal might make you think that there are limited options for you, but in reality, things are much safer this way.
Withdrawal Time Frame
PokerStars does not require much time when it comes to transferring your winnings into your account. There are two kinds of time frames when it comes to withdrawal from PokerStars.
If you are trying to process the withdrawal through Much Better, Neteller, and Skrill, then money will be deposited to your bank account within just a few minutes. The usual time taken for such transfers is within 1 hour.
However, if you are withdrawing by a bank transfer, then it will take around 24 hours. Your bank might take a time window of 3 to 5 days to do the bank transfer; however, you can be sure that the money will be safely transferred to your account.